Made in Members: Driving international trade forward amidst Brexit
It's an interesting time for UK manufacturers who export their goods and services. On one hand, the looming and ultimately unpredictable fallout of Brexit casts a shadow of uncertainty for all companies dealing in international trade. Despite this, many of our members are setting both personal and industry standards for their exports across all sectors of Manufacturing.
Our Annual Member survey revealed that members are selling their goods in 122 different countries across the world. It also shed light on the notion that member companies are less concerned with how their end-market products will be affected, but more concerned with the available pool of skilled labourers which may be impacted by Brexit.
From talking to Made In members, we've found a common feeling of confidence, optimism and a commitment to resilience as we move forward through 2019. These feelings represent the adaptability and resourcefulness which has driven British manufacturing forward for centuries.
Let's take a look at what some of our members have to say about the current and future state of exporting from the UK.

Known throughout Europe as one of the most prominent presswork and stamping companies, Brandauer manufacture precision metal components which are delivered to customers on a global scale. With a heritage stretching back over 150 years, Brandauer specialises in the complete prototyping, design and in-house tool production for companies in a wide range of industries.
With a primary focus on exporting out plumbing components, automotive electronics, and components for domestic goods, as well as a growing portfolio in electric motor laminations, Brandauer's exports make up 80% of their business.
They've also recently received The Queen's Award; a highly prestigious award for excellence in international trade. Rowan Crozier, Managing Director at C Brandauer & Co LTD, states that this accolade shows the company's readiness in terms of the uncertainties of future exporting, adding:
"It's something we can say which offsets any discussions over Brexit – it's something we point to in terms of our excellence in exporting."
Mr. Crozier advises other Made In members to step forward with their exporting by supplying a product which is in demand for the particular market being targeted. In terms of Brandauer, Mr. Crozier describes the company as being unworried by potential ramifications of Brexit, due to their strength within the niches they've developed and their ability to deliver the services on a global scale.

Specialising in a wide range of compressors, pumps, blower systems and loading systems, Gardner Denver delivers their highly-experienced and expert services to all kinds of industries. They take a tailored, hands-on approach so that they can provide the best possible service to each of their customers.
Gardner Denver recognises the utility of maintaining a global presence to support their customers and market position. With 6,400 members of staff across 40 key manufacturing facilities and 30 service centres, GD has recently established new facilities in India, China and Brazil.
Peter Satchwell, Sales Director at Gardner Denver Ltd, discusses how their long-standing history and capable employees are the pillars upon which they have built their success:
"For the GD high-pressure business, we're working upon a foundation 140 years of British heritage, and we retain the capabilities of our talented engineers."
Mr. Satchwell goes on to explain how GD's global presence helps to secure them against whatever Brexit may bring:
"A large portion of our business is outside of the concerns of Brexit; a large amount of our supply chain is UK-based, and we export globally, not just Europe."
In terms of advice for other companies who may be uncertain about the ramifications of Brexit, Mr. Satchwell points to the renowned reputation of UK manufacturing and how contributing to this reputation will only benefit companies looking to export.
He adds that:
"The British brand is still very, very strong, and should only be promoted more as the industry continues to grow. I don't see this changing."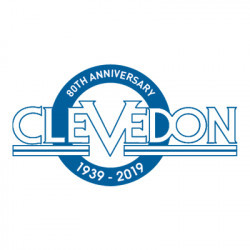 Founded in 1939, Clevedon Fasteners produce cold-formed components for a wide range of uses within the commercial and automotive sectors. The company operates with a focus on technical expertise and excellent customer service, and export their products to countries all across the world. Clevedon Fasteners were awarded "Best New Exporter" in 2003 by the Birmingham Chamber Of Commerce, and have since seen their exports increase exponentially.
Steve Hardeman is the Managing Director of Clevedon Fasteners and despite uncertainty over Brexit he is confident in terms of exporting. He also feels other members should maintain confidence as well as export customers love UK manufactured products. He said: 
"Clevedon manufacture fasteners in Birmingham and is mainly driven by our export business, including China and India. We learned a long time ago that export customers love UK manufactured products.
"Brexit holds no fears for us as we already the processes in place export anywhere in the  world"
Regardless of the current state of affairs in terms of trading, it seems many members and the manufacturing community as a whole is optimistic for the future. The Made in Group strive to keep a positive outlook on what is happening within the manufacturing sector and this is reflected through our members.